How to take the preparation of the Bar Council MCQ?
Bangladesh bar council MCQ exam question, If you are told with a syllabus it will be a written test, you can blow it out with a fun, but if it is said – MCQ will be taken, then a lot of sounds inside the chest can be heard in the ear! In written examination, a detailed question list is prepared after the syllabus, but it is not in the MCQ exam; Subtle and fine-grained subjects have to be reversed. It's hard work.
So, how to prepare for the MCQ examination of Bar Council's Advocate List – everyone has to go through a common stage; Everyone sees syllables, trying to take a good idea by taking the book back and forth and trying to decide what to read and what to do. Someone falls in the ocean when the book goes away, some enjoy the pleasure of conquering the Everest on their own; Discover how to get rid of this process in a systematic and easy way. This article is like a guideline for both those who are dubbed in the sea or those who have adapted themselves. This article can also be considered as an almost complete article on the test of the bar. Come on, we break up and break through the topic.
What is the Bar Council exam, do not have?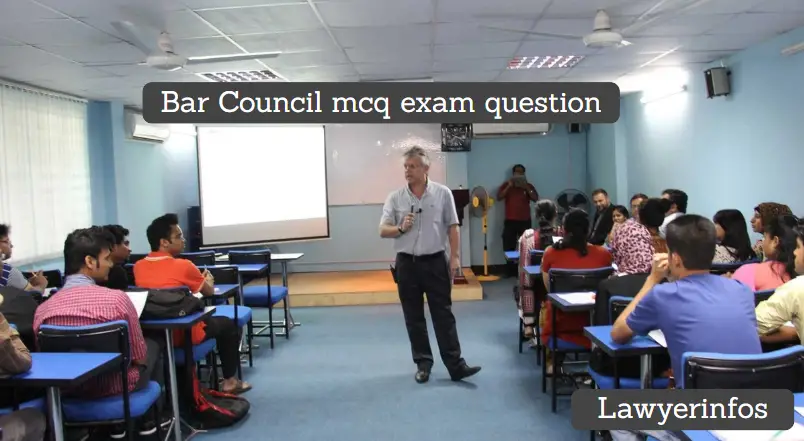 As a lawyer, you are eligible to vote in the court before the judge, the Bar Council has verified that in his examination. 100 Mcq number, 100 number written and 50 number of Viva test – The Bar Council by verifying these three levels. What do you need to know in court in a court of justice in Bangladesh or hearing a judge's plea or seeking legal remedies? Which are very basic – such as what is a criminal case, what is the process of a court, nature of the civil case, remedy method, etc. Need to know. Accordingly, the Bangladesh bar council mcq exam question has created the syllabus. These 7 courses are for Criminal Procedure, Penal Code, Civil Procedure, Precise Remedies Act, Testing Law, Removal Law, and Bar Council Order-Rules. After seeing the names at one glance, it may seem like a huge study, and what is the extent of his syllabus!
But you can think of things inverted. Some glass of half a glass of glass is empty, someone says half glass filled water. Both are correct But how much positive you will see that in the case of a satire, it will be the matter. So, imagine that in the case of Bangladesh there are around 1200 You did not have to read more than 50-60 courses in all the honors or pass courses or LLM courses. From there, only seven courses will be read as an Advocate for enrollment! In addition, it is also specified as a separate syllabus. That means it's not a difficult thing for you at all. All courses do not need to be read with all the detail. You will also get relief if you review it again.
Once think, how big is Judeasiri Syllabatata?
From the number of laws, the syllabus and the standard of examinations are judged by judicial examination in all respects as an ordeal. In comparison, Nothing at Bar Xay Akkabber Even times council syllabus is indeed extremely short. This simple syllabus is very easy due to conception. But this simple matter is not always easy for everyone. It requires diligence, time, labor and attention.
What is the main obstacle to accepting?
Anyone can end the short syllabus of the Bar Council. It is not impossible for the Bangladesh bar council mcq exam question. But not everyone is equal or equal to the same. Overage and even the so-called good students also take the help of taking help. And behind these two main reasons are responsible –
1. Study the essence of the basic bracket or not the main section
2. Not having a complete idea about the whole syllabus and not being able to identify, what, how seriously, must be read.
I mean, there is a lack of supervision guideline. If you read, you will not give yourself or your neighbors or anyone else, but you have to take the guideline from others. Other than your classmates, friends, teachers, experts, coaching centers, book writers – from them. So, you will collect this guideline from others, but you have the power to assert itself on it.
Every man in the world is unique. The process of teaching each other as well as for each of them is different. Bangladesh bar council mcq exam question Everyone has their own style. According to your own characteristics, you have to choose yourself, what other suggestions will you take and what advice you will not take. Most students live in the problem of creating their own possession of books and syllabus or arranging their guidelines on their own. After reading this whole article, the problem seems to be very low. Because, how this article really will be your own mate! Come on, go deeper.
Bar Council MCQ Testing Features
There was no need to discuss the above subtitles if the Bar Council kept its promise correct. Bar Council officials do not often make question papers according to their declaration or syllabus as mentioned in a syllabus, whether deliberately or deliberately. For example, we know that Bar Council Orders and Rules have allotted five questions within 100 MCQ questions, but 10 questions were given in the test of the year 2017. As a result, less than five questions were made from any other part.
Bangladesh bar council mcq exam question Many people have pushed the issue, perhaps because of having asked 10 questions from that part, have not expressed any reservations – because the questions from this section are usually very easy. However, it does reveal the weakness of an organization. What will be said, which will be the reason why it will be mentioned? This is tragic and at the same time, the question of suspicion is also for the candidates.
So, there were almost similar problems in previous tests. Do not want to make the text long by increasing the example. The main thing is that many unexpected events may be present in the Bar Council MCQ exam. That's what has happened. For example, in the year 2017 54 questions related to the questions came. Nobody expected much of the series based MCQ. Even the question marks were comparatively better. That is to say, this is the first time that MKC exams are so hard to do. It is necessary to say that the MCQ examination will be more difficult the next day. All public examinations of Bangladesh are becoming more and more standard day by day. As a result, there is no longer any day for the Bar Council examination. Candidates will have to prepare very well, otherwise, it will be difficult to pass the MMC examination.
Love syllabus, take it easy
Do you have to love syllabus except for a lot of things? Will you have to take? Yes, Brothers and Sisters! If you are serious about becoming an advocate, then you have to do it. But what is the way to love syllabus? The path printed a hard copy of the syllabus and took it. Now, let's say, take the book of the original law of the penal code. Matching the contents in front of the index matches the contents of the syllabus and sealed the syllabus hard copies both in the original book, that the topics mentioned in syllabus related to some section or chapter. When the finish is finished, flip through each chapter's page of that course and get an overwhelming idea of which topic is discussed. Watch the table of contents and syllabus again and again as long as there is no minimal idea about what the subject is related to and where it is located.
It is possible that you can connect a syllabus with a syllabus to the content or index or at least try to connect that will give you a way to start reading. Smoothly Most students with syllabus cannot cause this connection, due to the fact that the vine of the law continues to be sour. And those who could connect, there is nothing sweeter than the law of grapes.
So love the syllabus. Create your own syllabus, table of contents and self (self) in your dream journey!
In this way, if you can make a list of syllables and books about yourself, you can complete all your own arrangements. There is no need to go to the Coaching Center for this. If you are unable to create this guideline, suggestions from coaching centers or online or any other specialist can be taken.
Examination of the candidate: Where is your position?
There are 82 people in the world. Many people say that in this way – there are 82 types of crazy in the world. Actually, people are very different. Every person is different. So, there are many different types of candidates who are tested by the testers. Not everyone is our cause or headache. We mainly see two types of examinations. A group of thousands of thousands of models is given to test! The main section is interesting but the interest is low, wherever the model gets scorched! Books, Online, Facebook Everywhere There is another group, they mainly read the original books and have a solid reading compliant about the clauses. They are again lacking in the model test or self-examination. These two types of testers are in danger but. Some may cross the test scene, but the matter is a matter of death.
If you want to ensure almost 100 percent of professionalism, then these two need a good combination. The basic section should be understood, such as basic and basic concepts as well as the examinations, there is the much technical significance of the test moment, to challenge the time or to deal with the necessary MKC tests. The great Greek philosopher Socrates had a very important perception, she said 'know yourself'. He said a great deal of meaning in a philosophical sense. However, you can apply the words even though in a very small sense as a bar council or judicial examiner. You also need to know yourself and accordingly, you should define strategies and strategies accordingly.
Which syllabus is before, and what will be read later?
It should not normally be possible to start unplanned studies with any courses. We made a sequence in the form of our opinion. If you think well and reasonable, then you can follow it. Discussion or courses in our book or in this online order are organized

1. Penal code
2. Code of Criminal Procedure
3. Testimony law
4. Specific Remedies Act
5. Civil Procedure
6. Limitation Act
7. Bar Council Order and Rules
It is easily understood that the Penal Code is also popular. The basic two lessons of the criminal or criminal justice system are the penal code and the Criminal Procedure Code. Criminal or Criminal Criminal Definitions, including the amount of punishment, have been introduced in the penal code. It is a theoretical act And criminal proceedings apply in that definition and interpretation; The complex procedures of the trial were described here. As a result, it is better to read the Code of Criminal Procedure and then the Criminal Procedure. And after that, it is necessary to read the testimonies of the law. Because a trial is basically and primarily dependent on evidence. The intrinsic significance of the testimony is to start from the beginning of the case or from the beginning of the case until the verdict.
After this, it is better to read the specific remediation laws first. Because there are discussions about the basic principles of civil suit or remedy in this law. And after that, the Civil Code of Conduct, which is to be followed, will discuss what the court's procedure will be in the case of a civil nature. The limitation laws and the Bar Council will continue to be read on these two ends.
Advice:
Bangladesh bar council mcq exam question. Many people say that the evidence law, the limitation act, the specific remedial act, and the bar council order and rules – because these 4 issues are smaller than and there are 40 questions, so it is easy to confirm 35 numbers within 40 by reading well some of these. It can be a relatively easy strategy to pass in a little bit.
Still, I will give advice – as it is to read [because, even if you are a lawyer, you will not be able to do good if you do not know the penalties and procedures well beforehand. As a result of being a lawyer, you have to read!], Then why not take forward reading now? Why would you go to the local express to stay in Guaranteed Express?
We have a small suggestion on reading in another article. Here again, the important thing is to say that. If you do not try to do anything after reading the law, then do not waste your precious time on the lip of eighteen. Do not understand, then skip it immediately. Go to the next section or go to the next step. For some time, after creating some more ideas, many times have been seen in the past [and at the same time disobedient!]] It is easy to understand or come into perception.
But the guide book?
The guidebook is important? Yes, One must keep the guide but not one. There are technical aspects of the examination. Looking at the previous questions, checking yourself in a new question or giving a model test, making ideas about different issues cleansed, etc. It is important. In that case, a guide book is very useful, especially for the MKC examination. Earlier books of M.C.C. were very poor or low-quality books.
Hundreds of thousands of MCQ have pampered the question and made a book. Increasing the number of questions, the book has proved to be the best. But the quality of the questions was not protected. There can be numerous complaints about those books which are not discussed, raunchy, careful not to comprehend the language of the learner in the appropriate language, the lack of standardization of the requirements for the bar exam, etc. However, it is now past. The era changed. Come back now. At least it can be said that the lecture of the jury law is still the most straightforward and delightful of the students; Students get the most accurate instruction in detail but in a moderated discussion. And I will not say anything about Jersey Law's MKQ quality. Not to talk to all!
Do you know the story of the blind elephants? [Some things about being in the mainstream]
The essence of all the sayings mentioned above is that one of the best things to do is to prepare for the main act or bare act. But how to read the original section and how to deceive? Or how to make an MCQ test, how to read the main section? Before going to the discussion.
I want to tell you a story
Most of us know this story, but still, want to remind me a bit. Some blind elephants want to know about. So they were released in front of an elephant. Someone took the belly stomach and said – The elephant is like a wall. Someone saw a leg in front and said – Elephants are actually like a pillar. Someone got stuck in an elephant and said it was like a banana tree. Another trail said, 'Oh no, elephants are like a rope, I'm over! Another said to catch another leg – no, it really is like a pillar. So, elephants have more like a pillar to look like this. As a result, it is believed that all elephants are like pillars. But the elephant is like an elephant, an animal in a vast body! No elephant pillar, no blacks or ropes or walls. Nobody found the real elephants!
So, if we read the main sections of the law, many of us may have seen such a blind elephant. It is not unusual, there is nothing to shame or shrinkage. Those who did not study too much or did not have time to manage properly, or simply went to the LLB or LLM, hoping to pass only – that is, did not read the law with joy, but for them, Bar Council Advocate Listings test is like a kind of acid test. There is no scope to pass here and there to pass. Even if you cannot enjoy the joy of reading the law, but its stress can increase your age. So, if you have a chance, do not let a little waist!
Nothing good is good
As a part of MCQ process here, we will adapt ourselves to the mainstream lessons and have said something about how to practice MCQ.
It is not wise to read many MCQ without understanding the rules. MCQ practice or practice should be done well, as the main section should be understood, as well. But nothing is extra good. Everything has an age, time is there, maturity; Even there is a declining age. As a tester of the bar, you must remember that you are not doing any research work or study. You are taking the bar council test. And the Bar Council wants that you have an idea or basic idea about the topics included in the syllabus. The bar counsel does not aim to verify the depth of your knowledge. As a result, it is not your intention to gain deep knowledge. There is insufficient space for publishing deep knowledge in a written examination. It is not necessary for MCQ testing, Mind brick.
However, taking a good idea about the main sequences and doing a lot of hard work for the MCQ examination. If you can catch a road or a way to do this hard work, then the next tide will catch you! We can enter a small example. In the 8th chapter of the Penal Code, there are discussions about the crimes against the people of 141 to 160. The first section is about an illegal assembly, the concept is a very important concept of the Penal Code. Bold unbold, underlines, keep these down and keep reading.
Section 141: Illegal assembly
Five or more assembly is called 'illegal assembly', in which case the common people of the people of that really are:
Firstly
When applying the legal authority of a similar employee to the government or lawmakers or any government employee, threatening to commit criminal enforcement or criminal coercion.
Secondly:
to prevent the implementation of any law or any legal system.
Thirdly:
to take any person's misdeeds or criminal intimidation or other offense.
Fourthly:
To deprive a person of any criminal offense or to take possession of an estate by showing offensive threats of criminal coercion, or to deprive anyone of the right to gain the right to water, or to deprive him of the right to use water or to deprive him of any other material possession in his possession or to Establishing rights or imaginary rights.
Fifthly:
By complying with criminal force or by threatening criminal aggression, compel a person to perform a task which is not legally compulsory or refrain from performing the act that he or she is legally obliged to do.
Explanation: The rally, which was not illegal in the time of the settlement, could then be an illegal rally. " I mean at least 5 people.1 general purpose. One of the 5 types of crime is happening. In short, this is the case.
It is found in the case of Elaborate – preventing the work of government employees, enforcing government enforcement or implementing – these two crimes related to government; In the third, it is mentioned that the crime can be committed through an illegal gathering through these five areas – in the third to commit any crime and to force them to take possession or to do some other thing in the last two. Lastly, the explanation has to say – even after the beginning of any work, it could be converted into an illegal assembly.

So, what could be the basic question from the above?
The question might be: –
1. How many people have to stay at the illegal rally? [5]
2. Which of the following must be held to take place in an illegal assembly? [General purpose]
3. There is a mention of how many cases can be organized in the case of unlawful assembly punishments? [5 cases]
These three basic questions can be asked from here. These questions can be reversed. For example —
1. Six people had vandalized a car with a common motive. What kind of crime?
2. If there is a general purpose for any crime, then what crime can happen?
3. If there is a ban on the implementation of any existing law in 5 countries, does it fall under the purview of any of the following crimes?
4. Which of the following is true? [141] Finally, the question can be asked from the explanation given, once you see it! ]
5. When there will be any kind of crime, if 5 people enter criminal crime? [Illegal assembly]
If you are just paying attention to the article, you are getting many good quality questions. And if you break the attention of an important section in such a way, it will be a basic idea and you will be able to accurately identify the answer even if you turn it back a bit. That's enough. Do not believe?
Then check once the question came out from this illegal gathering in Bar Council. The questions came from here only once in the examination of the bar and the Judiciary examination. See the quality of it.
According to the Code of Conduct, how many people need attendance to form an illegal assembly? [Bar: 2012]
A. 3 people B. 4 people
C. 5 people D. 6 people
How many people need attendance for illegal assembly? [Judy: 2008]
A. 6 people B. 4 people
C. 5 people D. 7 people
In other words, the basic question came out. The Bar Council actually wants to know whether you keep this basic concept correct! Nothing Elsewhere
The Super Advance on reading the original section – a case for them. Look at it.
"If any member of the illegal assembly is forced to take possession of the property which he possesses, then it will not be illegal, and such gatherings cannot be called an illegal rally. Every person has the right to take care of his possessions' [Mohin Mondal Vs. The State: 15 DLR 615]
Its simple meaning is that unlawful gathering will not be considered as an illegal assembly if it is used to protect personal property. The personal right to protection of property has been given in bars ranging from 96 to 106, which is one of the exceptions to the penal code.
Then a cryptical question might be asked for the following the Bangladesh bar council MCQ exam question for superstitionists –
In order to protect their assets, six brothers will be involved in an illegal rally, which will be the following crime?
A. Criminal conspiracy B. Illegal assembly
C. The crime of force D. There will be no crime
[Correct answer: no offense. You have to be careful about the question. It has been said that 'to protect their resources'. Many people can sit easily by answering it if 6 people are easily harmless because of a crime. ]
So, such a difficult analytical question rarely comes. They can be avoided if they want. If you can study such experimental or that capacities, then it is good. But what could be the benefit of being a great researcher if you cannot be listed as a lawyer! As a result, the researchers didn't, the basic idea was kept clear. Hopefully, no one can stop it.
In the story of seeing the elephants' elephants, in the above discussion, only one section has been shown as an example of how you read a section. This is a suggestion. The decision, style is all your own. However, if you give examples from some of the more than 10/12 norms, it would be better for you. But it is very hard work for me to make so many crumbling and crushing jokes. Forgive me.
10/12 thousand MCQ needs to read?
In the previous episode, I have a kind of examiner who read thousands of MCQ. We do not think this is the correct method. We have seen a lot of reviews, but it is not possible to ask for more than 3 to 4 thousand questions, even if the basic questions or questions are asked to turn them around. And fundamental questions cannot be more than 2500! It is not possible to ask questions, but it is not a quality question.

So there is no point in practicing those nonsense questions. Rather, the time has been read thousands of questions, the main sections of the various sections or sections of the important sections are repeatedly welded. This will increase your inner capacity. There is no need for loose outsourcing.

So, our advice is – wherever you see MCQ, there is no guarantee that you will get gold when you jump. Rather read the section, understand it, take recapitance over and over again. Nobody can take away this knowledge from you, you will have to live forever. And for those who did not pass the written test last time, I would ask them to follow this advice specifically. But we will not disappoint those who want to test 10,000+ questions.
How to practice MCQ?
A special aspect of the MMC exam is that – a lot of good students are also upset when they are tested. Just 1 hour! Answers to 100 questions. All public examinations are so. But once the attention-concentrating intersection, it becomes almost impossible to come back to the bar council test. Mcq test is not as big a thing as you cannot afford or your eligibility – this is a time game. Every single-second timing is very important in this time game!
As an audience we can easily say about Bangladesh's cricket team – this Mushfiq should be excluded. Or Shakib is a fake, or a scam about Tamim. But Shakib-Mushfiqik's 22 yards pain, pressure, nervousness, Situation – that's all you cannot explain. What is the problem of poison, what do they understand, which is a part of the horoscope that '! In the same way, if you are a little bit more tested then your condition may be worse. How much explanation we have come out of the hall – that is, 'Balasanna buddy! That Sarita has made me feel so bad, how many – with the photo of the admit, my face is not in the same way! Still, like Shakib-Mushfiqid, we do not understand, nobody will understand you! It cannot convince anyone what was going on in your mind and head.
The students often make a mistake by mistake – the question is not properly read.
First of all, you have to read a question very carefully. If you understand what you wanted to know, then pick the correct answer primarily by checking the rest of the options once. The rest will ensure that these are not correct answers. Again, you can also read the question by keeping the answers covered by a carton or board while reading from the book. Take a moment to read the question and understand it – what is the keywords of that section, etc. As much as you can remember, you can increase your Confidence by doing so. Then see options.
After finishing according to the section or syllabus once or for each subject or course, Randmily Mistake will again and again. Again, while doing other courses, practice MCQ of another course, which is left 15/20 days, without giving any original book revision. And after completing all the courses, we have to give a 100-degree test. Needless to say.
Due to the technical time of the testing hall being important, it is important to actually get the test done automatically. For that reason, you can sit at home and practice yourself with OMR sheets. Or different coaching centers give the opportunity to test the test, as well as if the Confidence is low. In any case, before the test you have to give at least 15/20 exams or at the coaching center.
Bata Shoe price is 1999, why?
Bata shoes [to be seen in all shoe brands lately] Those who buy, they must have noticed that their shoes or sandals are written in 1399 or 799 or 1999. 1400 or 800 or 2000 could write! Do you know why? It is called psychological pricing in the language of marketing. The advantage is that – you do not think that the price of the shoes is Tk. 2000. You will feel mentally worth 2,000 rupees a lot! But in 1999, there will be a lot of prices!
Anyway, I made the comment so that the Bangladesh bar council MCQ exam question can be made in such a way that you may be confused psychologically. Again, if you overcome that confusion with little attention or have a basic idea then you can easily answer even the question that is not even specific. It is possible to find out the correct answer even if they cannot remove those that are not correct as of the answer.
See the question of MCQ exams in the latest 2017 on the next page! Get fun
What is the subject of section 54 of the Civil Code? [Bar: 2017]
A. Without a warrant arrest B. Property ownership or division of property
C. Perpetual ban D. Reduction of the death penalty
Article 54 of the Civil Code is not any special or specially discussed section. On the other hand, Section 54 of the Criminal Procedure is a very famous or discussed section. Everyone has observed Section 54 of the Criminal Procedure and has kept in mind that there is no mistake in the examination. But under examination – 54 sections of civil code! In addition to the answers options, section 54 of the Criminal Procedure has been granted 'free arrest warrant'! Now handle the push. Those who did not fall into the psychological trap, they have cautiously answered that 'property ownership or division of property'. But many [such a large number of students have seen in my own eyes] did not read the Bangladesh bar council MCQ exam question correctly, that the content of section 54 of the Criminal Procedure sought! As a result, they have answered 'arrested without a warrant'!
There is another thing to learn from this question. Even the Bangladesh bar council MCQ exam question if you have Minimum Basic Ideas about all the basic issues of Bar Council's syllabus, this answer cannot be answered. Suppose, you do not know specifically what is said in the civil code of 'property taxation or division of property'. And it is normal for 95 percent of students not to know. Notice the other options in the question well. See that C, C, and D are also subject to different laws [Criminal Procedure, Specific Remediation Act and Penal Code] That is if you know other things, you can easily answer it, because the question asked about the category of the civil code. Just A Simple Logic.
Or suppose, it is said that –
'6 people used to force another person's crop through an illegal rally with a common intention, which is their crime?'
If the question is not properly noticed, the eye will not read that it is being used to protect the crops of the land here. As a result, there is no presence of all elements of illegal assembly, but it will not be a crime. Many people can mistakenly reply to the answer that it is an offense of illegal assembly. So, be careful! To avoid this confusion, always read the questions carefully. So, there is no option to read the question well. Psychological traps cannot be traversed. Enough is enough, no more. Be nice to everyone.