Child marriage is a social disorder. Under the Marriage Prevention Act of 2017, The age of the boys is 21 and the girls of the age of 18 are married even though child marriage is done by scanning the eyes of the local administration through the consent of the bride and bridegroom. Though there is a strict punishment to prevent child marriage, child marriage is taking place in our society every day without paying any of these punishments. Child marriage is a crime and child health is threatened by child marriage but child marriage is not closed in our society. But why? Research shows that the main causes of early marriage are poverty, family unrest, negative attitudes towards daughter child, deprivation of social values ​​and lack of necessary education, So not being the solution to child marriage.
A roundtable meeting titled Me-Yours To Stop Childhood Marriages was held. The main purpose of the discussion on how to do the solution of child marriage. The commentators of the event were briefly published.
Discussion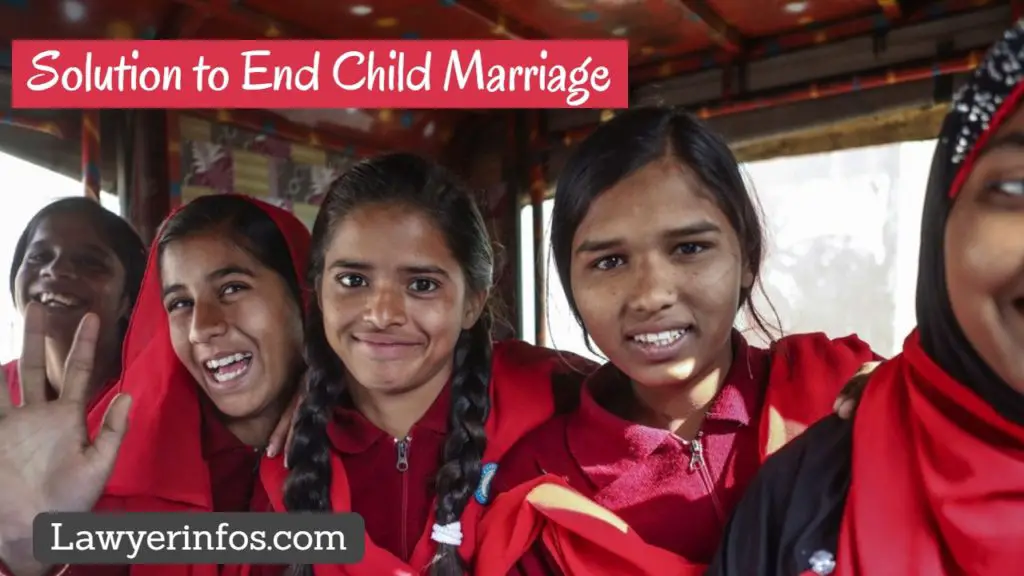 Abdul Qayyum:
We need to take steps to the solution of child marriage from each of us. There was a time when people did not think about the age of marriage. Now there is awareness among all.
The local administration, the people of the village have become much more aware in this regard. There have been some questions about the age of the girls' marriage. However, if we are all aware, under special circumstances, marriage will not be done under 18 years. Nasima Begum will start the discussion now.
Nachima Begum
We have made new child marriage laws. The Act has 22 sections. This clause is related to special conditions. There are penalties for child marriage. But there is widespread discussion in the society only about the special provision. Anyone who wants to take advantage of this special provision can not marry. Here such a marriage can be done in special circumstances only if it fulfills many conditions with the permission of the court to protect the best interests of the minor.
There is a verifying committee to ensure the best interests of minors. The chief of the committee is the Upazila Executive Officer. Representatives of the local administration, including two teenagers, will be members of the committee. This committee will look very seriously to see if there was any other way than to get married. Even then, the report of the committee will go to court. The court can accept the report or reject it. There are so many steps you need to go through to get married. So, anyone who thinks they can not marry.
Early child marriage rates are decreasing day by day. We have drafted the rules. It will be given on the website very quickly. Everyone will have the opportunity to comment on the matter. I hope we can solution to child marriage in the exclusive support of everyone.
Roshni Basu
Laws and regulations are important in child marriage. It is also necessary to bring more awareness and change among the people. We work with various government ministries, including the Women's and Children's Ministries, on the basis of the UN Children's Charter.
An important task at present is to formulate a national plan for ending child marriage. Proper budgeting and investment in national planning are very important.
Education plays an important role in the solution to child marriage. In this case, more emphasis should be given to girls' education. Again, we have to see how effective this education is in the workplace. It is also important to look at whether girls are discriminating in jobs and education. At the same time, it is important to ensure social security for girls.
Despite the law, sexual harassment is on the rise. It is important to think about the health-related issues of girls. In this case, there is a lot of investment required. It is important to give equal importance to both children. There is no discrimination between them.
Habibur Rahman
The main purpose of our Girls Not Bride is to end child marriage. We expect the current law to end child marriage will be much better. There has already been a lot of talk about Article 5 of the Act. Now we have to think about the rules. Many organizations have commented on the rule. These views have been given considerable importance.
The ministry is working very well in the solution of child marriage. In that case, we can be optimistic. Our concern is, whether the conditions of 19 sections will be implemented properly.
How to protect the best interests of minors. Again, what is in the best interest, these things need to be confirmed. Empowering teenagers can end many marriages on their own. Such are the examples in our society.
Ministry has taken an initiative to make the girls club. There are many other organizations that have teen clubs. We also need to use their experience. A major obstacle to the empowerment of girls is sexual harassment in educational institutions. In these cases, a task force should be formed with some ministries.
Ministries of Women and Children Affairs, Ministry of Education, Ministry of Home Affairs and related ministries have to work together. They will do things such as play a vital role in various areas including security, sexual harassment of girls. Yet some people think that marriage can be done for girls under 18 years. One of our tasks in this regard is to create awareness among the masses. All ministries, including the media, should play an important role in this regard.
Humayrah Farhanaz
There is a lot of talk about child marriage prevention law rules. There is more work with laws and regulations. Life skillful education is important for every girl. Teenagers will be aware of themselves through this education. They can make decisions on their own.
If they want to marry them, they can protest themselves. They can say that we want to do a lot without marriage. Poverty, lack of education, pressure from people including relatives and family are common for various reasons.
High court has a good guideline in our country. The guideline says that the committee does not have to stop sexual harassment at workplaces and educational institutions.
In the absence of social security, parents marry girls. In this case, parents and relatives do not get guaranteed security. For this reason, many parents do not want to send girls to school. The fear of being sexually harassed among them works. In these cases, child marriage will decrease after taking action.
Tania Haque
Child marriage is related to women's development and empowerment. The question is why child marriage will be the issue of women? The economic cost of early marriage is high. Early marriage is an ongoing problem. Child marriage is happening anywhere in the country.
There are some issues related to child marriage. We do not consider these issues as seriously as possible. For this reason, the issue is becoming more powerful than the solution to child marriage. Now each of us will have to ask, what do you have to do?
Who gives child marriage? Chiefly there are some people in society, including relatives. Here the parent's mentality has to be changed. They have to create thinking about a rich life. For this, the government, NGOs need to work together. When the mother is pregnant, the pregnant mother and her husband must be given an idea of a better life together with the loss of early childhood.
If you have ideas about how to raise a child, whether a boy or a girl, there is no gender discrimination. Family is the main area of discrimination in children. In any way, it is necessary to eliminate discrimination between children and children from the family. Housework means women's work. It has become very established in our society.
Many families think of their son's marriage as a need for more work in the world. Such mentality must necessarily change. All of us have to work for this kind of change.
Soumya Guha
There are some people in our society who are involved in child marriage. Those who work to the solution of child marriage but there are work with these people again. Who are they?
They are Ghatak, marriage registrar, etc. Girl and boy work in concert between two parties for almost all types of marriage, including child marriage. Registrars register. They are in number, how many of them are in the PMO's office. Their number is 70 to 72 thousand. Someone came to the marriage registrar and said that his daughter was 19 years old. But it looks like no more than 15 or 16 years.
To tackle this challenge a government official from Kurigram has created an application. This is a mobile-based application. This application is associated with national identity cards, birth registration, and school registration. Typing any mobile number in the app will tell you the child's age is not above 18 or below.
Khizir Hayat Khan
Usually, poor family girls suffer from various problems. In this case, more awareness is needed than law enforcement. In 2012 I did a workshop on events. Then I saw that many of them do not know much. So awareness workshops need to be conducted across the country.
The Islamic Foundation is constantly training in the prevention of child marriage. As the priests are coming here, they are getting an idea about child marriage. As we have seen in a survey, none of the priests who received the training were involved in child marriage.
Neha Kapil
I feel that child marriage is a social practice in Bangladesh. Socially it is being accepted in many cases. In order to stop it, great awareness must be created in the community. Children need to be aware of it. Many initiatives need to be taken public-private. The media can play an important role in this regard.
Mainly, the parents decide on child marriage from family. In all cases, poor parents want to give child marriage to the girl, not so. In most cases, they are forced to give birth to marriage. For what reason poor parents give child marriage to their daughters, it is very important.
As long as these are not resolved, then child marriage will continue. Policymakers need to think seriously about these issues. This requires research. Strategic initiatives need to be taken. Child marriage is being done in all villages and towns. Almost everyone knows that child marriage is a crime. There are punishments for this.
In order to end child marriage, in fact, there is a huge investment for girls. Important initiatives need to be taken on some issues, including their education, social security. Otherwise, it would be difficult to stop child marriage.
Maleka Banu
There is no doubt that the rate of education has increased greatly in the country. But one thing remains to be seen is whether the education that girls are receiving is creating employment. What is empowering him? Whether he is able to make a decision in society. If the education of girls does not help to play a role in these matters, then it is necessary to think deeply about how effective this education is.
To prevent child marriage, special importance should be given to the sexual and reproductive health of children. It is included in the syllabus for our movement. But sadly, it is not taught in most schools. In order to empower girls, it has to come through our education.
Must come through state policy. At the policy-making level, it is important to think seriously. In all cases, unless there is a reflection of this, the transition to child marriage will not change.
Polash Das
The government's thoughts and activities on child marriage are very strong. It makes us much optimistic.
But as seriously as it was supposed to be in the Seventh Five Year Plan, it didn't. In one thousand-page book, child marriage is written in only one paragraph. The plan states that by 2020, child marriage will be reduced to 30 percent.
If there is a lot more political will to prevent child marriage, and if there is so much mention in the Five-Year Plan, then how can it be achieved? In this regard, the Ministry of Women and Children Affairs will have to take a role.
The Bangladesh government submitted a report on the SDGs of June 2017. There, the government has said that the prevention of child marriage is a very important challenge for Bangladesh. It is further stated that economic growth and poverty cannot be eliminated if child marriage cannot be eliminated.
Many issues are indirect and many issues are indirectly involved in preventing child marriage. The Ministry of Women and Children Affairs should take the lead in these areas. You – every one of me has to deal with child marriage.
Mahmud Rahman Khan
We have tried to know what causes child marriage. A major cause of child marriage is to drop out of school. For this, we have worked as a pilot program in 290 public schools in public-private partnerships.
Our campaign was named Best School for Girls. In this regard, we have discussed with the teachers, management committee, community and all concerned. In this work, we got positive results.
Before we got to work in these schools, the drop rate was 2 decimal 1. In the last three years after our work, it has come down to 1 decimal 6 percent. The rate of child marriage was 8 decimal 10 percent. It has been 1 decimal 4 percent. We did this as a pilot program. It is now necessary to take it to the big stage. Not only will the drop falls be prevented. Employment opportunities should be given. For this purpose, I have taken the initiative to undertake projects to train these girls for their skill development.
Generally, the government, NGOs work on these issues. But the private sector has played a good role in our pilot project. They have to be used too.
Abul Hossain
Our law is a very good law. But it does not have much publicity. The preaching work needs to be done seriously. The media can play a significant role in this regard.
Different NGOs are working separately in different areas. One has to think about how these tasks can be done nationwide. In this case, we will cooperate. Our MoU (Memorandum of Understanding) has been signed with many ministries, such as home, information, social welfare, youth, and sports. We can take any initiative coordinated.
We have a kind of communication from city to village. If the non-government organization is involved, then the work will be more fruitful. We talk about various meetings and assemblies. But everyone needs to take an initiative where everyone can discuss at least once a month. And we can decide how to do more work in this field.
We have changed the previous number to 109 to help women. Many do not know the number. It needs to be broadcasted in the media.
Nachima Begum:
We all want to take forward the prevention of child marriages. For this, we feel the need to work on the basis of public-private partnership.
In today's discussion, there have been issues such as quality of life, technical education, unpaid work evaluation, change of mindset, turning women into wealth, implementing high court verdicts, creating a database of child marriages, increasing the budget of the ministry. We agree on these matters. We are working to make changes in these cases.
One of the reasons for child marriage was not explained in the seventh Panchayat plan. I think, how the matter has come, it is not a big deal. The key is to give importance to the subject. Apart from this, no single ministry will work to prevent child marriage. Many ministries are involved with this. The task will be done by everyone.
Earlier on the basis of pilots, some districts were employed. Most of the works were not related to the mainstream. Now let us plan our plans nationwide. Early marriage is mainly due to poverty and poverty. For this reason, I have taken a program that poor women can earn income in all the Upazilas of the country. There is no issue of education and age in this program.
There will be a juvenile club in the union and municipality of the country. Here they will receive various training including sex and reproductive health education. We are doing almost everything that needs to be done for the development of women. This will stop child marriage in the future.
The conclusion:
There are many important topics discussed. It is important to think seriously about girls not falling into education. Because there is a connection between child marriage and this can solution to child marriage.